PA&L Kids and Teens presents
Daniel Handler
October 25, 2013 at 7:00 PM
Carnegie Library Lecture Hall in Oakland
4400 Forbes Ave, Pittsburgh, PA 15213
For more information call 412-622-8866
Tickets: $25 for Adults and $15 for Kids.
Daniel Handler is an American writer, screenwriter and accordionist. Under the pen name, Lemony Snicket, he's created a sequence of books called A Series of Unfortunate Events. His intricate and witty writing style has won him numerous fans for his critically-acclaimed literary work and his wildly successful children's books. As Lemony Snicket, he has published a new series of mysteries for children aptly named All The Wrong Questions. The second book in the series, When Did You See Her Last? releases October 15, 2013, and tells the story of a missing girl featuring Lemony Snicket as a detective. Handler writes books for both all ages. His personal philosophy: "Never refuse a breath mint."
Meet Lemony Snicket himself and get your copies of Series of Unfortunate Events, the witty YA favorite Why We Broke Up, and All The Wrong Questions signed following the program!
Tickets purchased 7 days before the program will be held at Will Call on event day at the Carnegie Library Lecture Hall in Oakland. Due to the popularity of this event online ticket sales will be limited to 6 per order.
Pittsburgh Arts & Lectures presents programs for kids and teens, bringing nationally acclaimed authors with popular books to local audiences for the purpose of promoting lifelong interest in reading. The series is in its thirteenth season and is presented in association with the Carnegie Library of Pittsburgh.
Books for this event will be available for sale from our local and independent book store, Mystery Lovers Bookshop, before and after the program.
Please note that Mr. Handler will sign one (1) previous book (such as Why We Broke Up, any of the Series of Unfortunate Events). There are no limits for the All the Wrong Questions books.
For information on other Pittsburgh Arts & Lectures programs, visit
www.pittsburghlectures.org
Venue Details
Carnegie Lecture Hall
4440 Forbes Ave | Pittsburgh, PA |
Directions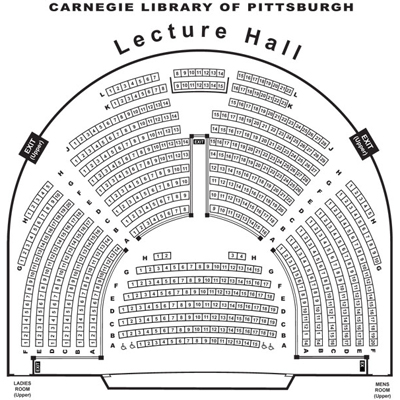 The Carnegie Library Lecture Hall seats about 600 patrons, and is typically used as general admission, open seating. The central seats that are directly in front of the stage are accessible by aisles on both the left and right side in rows A though G, with row H having just 2 seats on each side, for 8 rows total. Rows A through G are 15 to 19 seats long. There is wheelchair seating in the first row on either end of the aisle. There is more seating in the upper level, with 9 rows lettered row A through J in 4 separate sections in a half-circle around the stage. The seating is accessible by a stairs on both the left and right sides.
Seating Chart Description
Accessible Services
Note: All services may not be available at all performances. Click the icon above for accessible performance schedule or contact customer service for further assistance.